Cardano is like Ethereum on steroids, except smarter, faster, and doesn't require tons of power for mining coins. It's a fully decentralized proof-of-stake crypto currency that is completely open source. If you've never heard of Cardano, this is a good place to start learning about it.
As of writing, the price of ADA was performing well. You can do your own homework with the chart below.
Staking Cardano is easy, and won't consume gigawatts of power like Ether. I prefer the Daedalus wallet. You can stake with other wallets, even physical ones, but none are as full-featured or as satisfying as running a full node.
Basically, staking ADA on Daedalus works like this:
Download, install, and open the app (currently called "Daedalus Mainnet"). It will take a few moments for the wallet to open and sync with the blockchain.
Navigate to the Rewards and Delegation section of the wallet using the navigation icons on the left-hand side. It will be the network icon, the second one listed.
Once you are in the rewards section of Daedalus, you will see an option for Delegation Center. When you select this tab, you will see a list of your wallets and their delegation status.
Select which wallet you would like to delegate from and click on the word 'delegate' for that wallet. A dialogue box will appear that prompts you to select your wallet and hit continue to proceed.
Once you hit continue, you will be directed to select your stake pool. You can type in the name of a pool you want to join or you can browse the list of available pools. To explore various stake pools, you can click on a pool's ticker to view performance metrics, fees, and other information about that pool.
After you find the pool you want to delegate to, simply click on the pool and hit continue.
You will be prompted to enter your spending password to approve the pool delegation and the small fee associated with it. NO ADA will be moved from your wallet other than the nominal transaction fee.
You can re-delegate your stake to another pool at any time, though changes during an epoch will not be reflected until after that epoch completes. You can see a running real-time countdown of the epoch in the delegation center option.
The info-graphic below is dense, but it graphically depicts epochs and reward schedules (on the upper right hand side):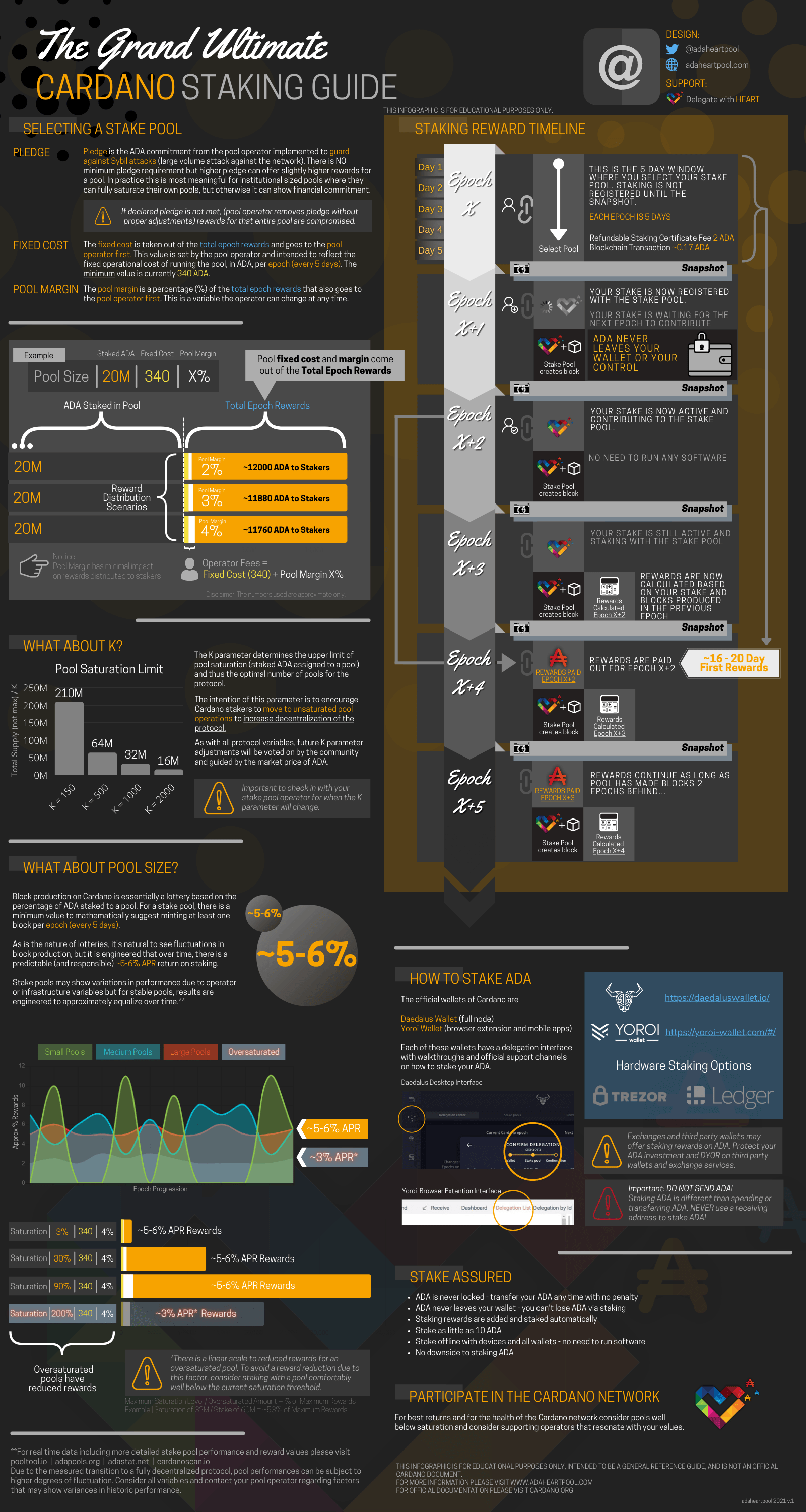 Happy Staking!
Oh, you need more cool visualizations before you jump in with both feet? That's fair. See below: